Moira Dingle turns to drugs in Emmerdale reveals Natalie J Robb!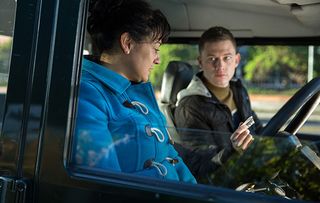 Moira Dingle is so desperate to get some sleep she calls her dead daughter Holly's evil drug dealer for help, Emmerdale's Natalie J Robb reveals. Will she really take the pills he sells her?
The fact that Moira Barton has already raised three kids isn't helping as she struggles with her baby son Isaac. She hasn't slept a wink for ages and in a desperate attempt to get some shut-eye, she contacts Holly's drug dealer…
What's the story?
Moira is struggling with being a mum to baby Isaac and is so desperate for some shut eye she buys drugs from her late daughter's dealer, Simon. "She hates him," actress Natalie J. Robb tells Soaplife. "But she doesn't know what else to do. She can't think straight at the moment." Will she take the drugs or see sense?
What's happening in Emmerdale? See the latest soap storylines
Natalie J Rob reveals all to Soaplife
Soaplife: How is Moira coping?
Natalie J Robb: "Not very well at all. Being a mum at this stage of her life is still a bit of a shock for her and she hasn't bonded with the baby. It doesn't help that there is a lot of trauma and drama going on around Emma's murder."
SL: What is wrong with Isaac?
NJR: "Moira takes him for a check up and finds out some disturbing news - he has a hole in his heart. She blames herself, she is full of self-loathing because she was still doing things she shouldn't have when she was pregnant. She was lifting bales of hay and she drank, not heavily, but she had alcohol in her system."
SL: Is Isaac's dad Cain helping her?
NJR: "He goes with Moira to the clinic and when they find out about the heart problem, he pulls her in for a hug, which a concerned Harriet sees."
SL: What makes Moira call a drug dealer?
NJR: "She is not getting any sleep. She has a lot on her mind and really needs to rest, but the baby won't stop crying. She is pushed to the edge and as she is looking for some painkillers she comes across Holly's phone. She finds the drug dealer's number and calls because she doesn't know what else to do."
SL: Why doesn't she just go to the doctor?
NJR: "She is not thinking straight. She asks the doctor for some sleeping tablets, but he won't give her any because she is breastfeeding."
SL: How does she feel about meeting up with Holly's dealer Simon?
NJR: "She hasn't seen him since Holly died and she hates him. She despises what she is doing and knows she is being stupid, but she is running on empty."
SL: What happens next?
NJR: "She gets the pills and goes to Holly's grave. She has every intention of taking them – possibly even the whole bottle…"
SL: What do you think of this new twist?
NJR: "I was surprised by this as my natural thought would be that Moira would want to kill the dealer. She is being really stupid, but she's not thinking sensibly. She certainly wouldn't listen to any advice. All she wants right now is some sleep. Sleep deprivation is a terrible thing and it is really debilitating for Moira. She can't function at the moment."
Get the latest updates, reviews and unmissable series to watch and more!
Thank you for signing up to Whattowatch. You will receive a verification email shortly.
There was a problem. Please refresh the page and try again.