Paddy becomes a target for evil Robert, reveals Emmerdale's Dominic Brunt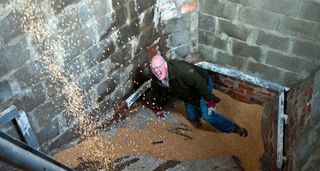 Paddy's life is on the line because of Robert's evil, Emmerdale's Dominic Brunt (opens in new tab) explains to Soaplife.
Paddy bravely decides to threaten Robert Sugden when he finds out the affair with Aaron is still on. But the vet soon comes a cropper when Robert decides to teach him a lesson. Trapped in a grain pit with an injured leg, Paddy's in grave danger when Robert starts up the machinery and the pit begins to fill up…
Why does Paddy cross Robert?
"He finds out Robert [Ryan Hawley (opens in new tab)] and Aaron [Danny Miller (opens in new tab)] are back on and he can see the signs of Aaron self-harming and being used by Robert. He keeps going on at Aaron to stay away from Robert. It gets on Aaron's nerves and obviously doesn't work, as Paddy finds the two men kissing."
How does Paddy react?
"He's disappointed and concerned for Aaron because he thinks he's in genuine danger from Robert. He can also see the relationship is not making Aaron happy. Robert tries to threaten Paddy, who absolutely flips! But that just makes things worse…"
Is Paddy a match for Robert?
"No. Paddy's scared of his own reflection. He's terrified of Robert. He gives it a go, but Robert blows him out of the water. He is an arch manipulator."
What does Paddy do to Robert?
"He tells Robert he'll tell Chrissie [Louise Marwood (opens in new tab)] about Aaron if he doesn't stay away from him. Then he writes Chrissie a note that reads 'Rein your cheating husband in'."
Does Paddy realise it's Robert who switched on the grain chute?
"No, he hasn't got a clue - but I don't think it would take him long to come that conclusion. Paddy does know he's in genuine danger. He's worked on farms so he knows people do die in accidents like this… And he knows a machine doesn't turn itself on."
Emmerdale (opens in new tab), ITV.
Get the latest updates, reviews and unmissable series to watch and more!
Thank you for signing up to Whattowatch. You will receive a verification email shortly.
There was a problem. Please refresh the page and try again.