Emmerdale's Emily Head on Rebecca White's devastating new discovery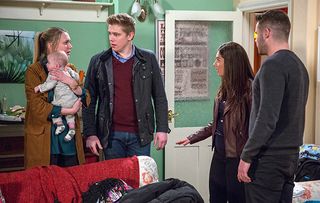 Actress Emily Head has revealed that her Emmerdale character Rebecca White is left fearing for her future and for her baby Seb.
After putting baby Seb in danger, an already struggling Rebecca White is about to get a shock new medical diagnosis that knocks her sideways, actress Emily Head has told Soaplife.
What's the story?
Memory loss could be a blessing in Emmerdale, where bad things happen to good people all the time. But that's not how it's working out for Rebecca White, who is struggling to cope with baby son Seb.
"People around her can see she is not the same," actress Emily Head tells Soaplife. "Then doctors tell her she never will be!"
What's happening in Coronation Street? See the latest soap storylines.
Soaplife's interview with Emily Head about what's next for Rebecca White...
Soaplife: Does she remember anything about the car crash?
Emily Head: "No, she has no flashes of memory at all and she finds that very frustrating. It is Lachlan's fear that she will remember it, but she doesn't."
S: How does she end up back in hospital?
EH: "She forgets to feed Seb and then she accidentally leaves him alone. Seb's dad, Robert Sugden and his sister Victoria Barton persuade her to go to the hospital, where doctors say there is evidence of reduced blood flow to her brain. They explain that she may have a brain injury - which would mean there is no going back to how she was before the crash."
S: How will she look after Seb?
EH: "Well, this prompts her to make a big decision regarding him. She worries that she can't do it on her own. Her mental health is not good at the moment and she is leaning towards depression. She feels completely useless."
S: Is Robert a help?
EH: "Robert has been really great and they have put aside all the previous stuff that was going on between them. It's so refreshing for the characters not to be angry with each other all the time!"
S: Did you research this storyline?
EH: "Yes, through a charity called Second Chances Headway. I met some extraordinary people and lots of things have happened to them. It made me see that we have a duty to tell this story as best we can."
S: What lies ahead for Rebecca?
EH: "Hopefully, a fresh start is on the cards. She will try and deal with her head injuries as best she can."
Emmerdale, ITV
Get the latest updates, reviews and unmissable series to watch and more!
Thank you for signing up to Whattowatch. You will receive a verification email shortly.
There was a problem. Please refresh the page and try again.