'Rejected Zak could kill himself,' reveals Emmerdale's Steve Halliwell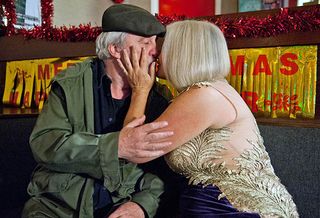 Emmerdale's Zak Dingle could kill himself after being rejected by wife Lisa and his mistress Joanie Wright, says Steve Halliwell (opens in new tab), who plays the cheating husband.
When daughter Belle (Eden Taylor-Draper (opens in new tab)) told everyone about her dad's affair in the middle of Christmas dinner, Zak decided to say goodbye to his family in the hope of starting a new life with Joanie (Denise Black (opens in new tab)).
But he got the shock of his life in last night's episode, when Joanie rejected him, saying, "I don't love you - not enough, anyway".
What Zak doesn't know is that his son, Cain (Jeff Hordle (opens in new tab)y), had paid Joanie a visit and warned her to send his father back to his wife, Lisa (Jane Cox (opens in new tab)). If she didn't, Cain said, then he would make sure Joanie lost custody of her adoptive grandson, Kyle - who is Cain's son.
"I will get Kyle taken off you," Cain threatened. "I'll make it my mission. Dump Zak and make it convincing."
And Joanie did.
What's Zak going to do now?
"He could well become suicidal," Steve told the Mirror. "He has lost absolutely everything. How can he carry on? If the family all shut off their love, it will be devastating for him."
Zak tried to go home, telling Lisa he had made a mistake. But she told him she doesn't want him, either.
"Get out of here and don't ever come back," she told him.
Zak's already had one nervous breakdown that nearly finished him.
Once the strong, proud head of the Dingle clan, he's now a broken man again… And this time he might not mend.
Emmerdale (opens in new tab) returns to ITV tomorrow night at 7pm.
Thank you for signing up to Whattowatch. You will receive a verification email shortly.
There was a problem. Please refresh the page and try again.