'Robert likes to be on the edge,' says Emmerdale's Ryan Hawley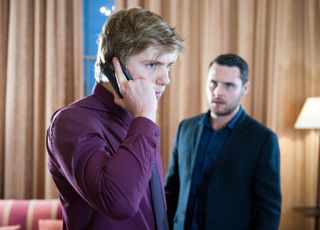 Emmerdale (opens in new tab)'s Ryan Hawley reveals to Soaplife how Robert's liaisons with Aaron get even more dangerous.
Robert is horrified when Chrissie accuses him of being unfaithful and tells him to sling it… "But, to his relief, it's not his affair with Aaron she's discovered," says Ryan (opens in new tab), "it's pornography on his laptop. Chrissie assumes the porn is Robert's, but he's not the only person in the house who might use that laptop."
What does Chrissie do?
"She orders him to pack his bags, saying that she doesn't want to be near him and that in her mind she knows that he has been unfaithful. She has seen porn on the laptop and thinks that Robert has arranged to meet a woman he met online."
How does Robert get back into Chrissie's good books?
"He has a word with Lachlan [Thomas Atkinson (opens in new tab)] and you see that paternal, stepdad side of him. Chrissie [Louise Marwood (opens in new tab)] is really grateful as she's having a lot of difficulty being a single mum to a troublesome son."
Then Robert risks a date with Aaron (Danny Miller (opens in new tab))!
"Yes, but Robert likes to be on the edge and keep things exciting."
Does Robert have any idea that Katie and Chrissie follow him to the hotel?
"No, but he looks out of the window and sees them. He then has to think on his feet to find away out of getting caught. Afterwards, Robert warns Katie to stop meddling in his affairs."
We know Sammy Winward (opens in new tab) is leaving – has Robert got anything to do with Katie's exit?
"You'll have to wait and see! Robert is wary of Katie, but he thinks he will always have the upper hand and is confident she is not going to find out the truth."
Emmerdale (opens in new tab), ITV. Click here (opens in new tab) for dates and times.
Get the latest updates, reviews and unmissable series to watch and more!
Thank you for signing up to Whattowatch. You will receive a verification email shortly.
There was a problem. Please refresh the page and try again.