Emmerdale's Robron reunited! Aaron declares to Robert: 'You loved me like nobody ever has before'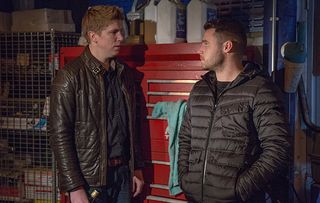 Robert and Aaron got back together tonight after Aaron ditched boyfriend Alex
The moment Robron fans have been waiting for finally arrived tonight, when on/off couple Robert Sugden and Aaron Dingle got back together. But the big reunion didn't happen without a few twists and turns along the way.
It looked like the pair would reunite at a Hotten gay bar, when Aaron dumped boyfriend Alex. But Robert, who was at the same club with sister Victoria and her friends, left with handsome Lee Mead lookalike, Mike.
Aaron later discovered Robert in Cain Dingle's garage – scene of their unofficial marriage last year – who revealed that he hadn't gone back with Mike, afterall, as he wanted to stay faithful to his estranged husband. Aaron then revealed that he'd split from Alex, and told Robert he wanted him.
But it wasn't enough to seal the deal. Robert said he couldn't agree to start afresh, as he didn't want to risk going through the pain of another split, and insisted that his tearful ex would "figure things out."
All was not lost, though. Not prepared to take "no" for an answer, Aaron paid Robert a visit at home and, as Adele's' "Make you feel my love" played on the radio, he made a heartfelt speech, guaranteed to melt the hardest of hearts.
"Just shut you mouth for one minute and let me say something, right,' said the mechanic. "You are a disaster. You're smug and you're arrogant, and you're cocky, you've got terrible taste in music and you dance worse than Paddy – and that's saying something.
"But I've got nothing to figure out, okay. I know you, I know exactly what I'm getting myself into, and you've tried so hard for me and for the people that you love, and not everybody sees that, but I do.
"You got me to talk about Gordon, and then you listened to me and then you got me through the impossible. And Liv, my little sister. You found her; you found my little sister, you. And even though she drove you nuts and she reported you to the police, you took her in as if she was your own.
"You saved my life. You got me out of that car, in that water, and you saved my life. You planned this mental wedding, you built us a home and you got me out of prison early. And then you told me the truth about Rebecca, instead of trying to hide it. And then you stepped up for your son and you fought for him and you loved him, and you loved me – you loved me like nobody ever has before. So please, Robert, will you just come home with me and let me help you this time?"
There wasn't much to say to that, but Robert couldn't resist a cheeky retort. "I'm actually a really good dancer," said the businessman, adding "Course I'll come home with you. I love you so much."
With the pair back in each other's arms, Robron fans will now be looking forward to their big wedding. Emmerdale boss Iain MacLeod has already revealed that the nuptials will take place in the Summer.
Speaking to TV Times at Christmas, Danny Miller, who plays Aaron, said "Iain's promised it'll be bigger than in the Woolpack, so me and Ryan (Hawley, who plays Robert) are gagging for Vegas or somewhere.
"Aaron's and Robert's criminal records would make it difficult, but you never know!"
Get the latest updates, reviews and unmissable series to watch and more!
Thank you for signing up to Whattowatch. You will receive a verification email shortly.
There was a problem. Please refresh the page and try again.