Shock new romance for Rhona with Pete! Emmerdale's Zoe Henry reveals all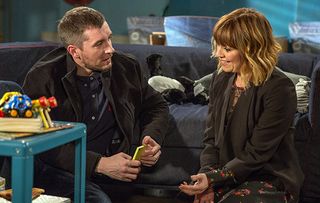 Emmerdale's Rhona Goskirk is getting back into the dating game with a hot new man and the big news is that it's younger man Pete!
Emmerdale vet Rhona Goskirk still holds a candle for ex hubby Paddy Kirk. What she wasn't expecting was a passionate encounter with a surprise new man! Actress Zoe Henry has talked to Soaplife about Rhona's latest romantic entanglement.
What's the story?
Rhona Goskirk certainly knows how to move on. In a bid to put her annus horribilis behind her, she goes on a date with Pete Barton and it's not long before they kiss passionately and fall into bed. "This whole thing comes from nowhere," Zoe Henry has revealed.
What's happening in Emmerdale? See the latest soap storylines
Soaplife's interview with Zoe Henry
Soaplife: How does she get to go on a date with Pete?
Zoe Henry: "Rhona bid on Pete at the village fundraiser after Chas bids on Paddy before she can. Pete says he'll take her out for a drink, but doesn't show up. Rhona then runs into him by accident and asks him to go out for a drink."
S: What happens next?
ZH: "Well they go out and have a snog and one thing leads to another. She can't quite believe this is happening to her. There is a cute little chemistry between them."
S: Does she have feelings for Pete?
ZH: "He has never entered her head before. He is 10 years younger and a bit of a car crash when it comes to romance. She sees it as a bit of fun. She is not reading anything into it and expects him to say 'Let's not get carried away.' She is a mother and she is just getting over a terrible rape ordeal. She is just having a little bit of fun and finding her feet."
S: What advice would you give Rhona?
ZH: "I'd say 'You go for it, girl!' I think that a little bit of what you fancy does you good. Her priority will always be her son and then her job. She is a typical middle-aged, professional mother who always puts herself last."
Emmerdale, ITV
Get the latest updates, reviews and unmissable series to watch and more!
Thank you for signing up to Whattowatch. You will receive a verification email shortly.
There was a problem. Please refresh the page and try again.