Emmerdale's Tracy Metcalfe is hiding a sordid secret reveals Amy Walsh!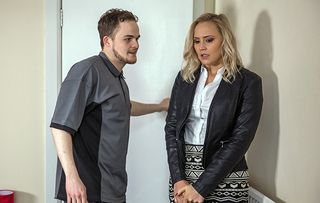 Emmerdale actress Amy Walsh has revealed all about Tracy Metcalfe's latest crisis as Phil declares he knows her from her prostitute past
Tracy Metcalfe has been hiding a secret from her husband and family… She used to be a prostitute. Now a former punter has come back into her life and is threatening her. With her marriage to David Metcalfe already on rocky ground, this could break them. Actress Amy Walsh has revealed more to Soaplife.
What's the story?
Things aren't going very well between Tracy and David Metcalfe. As far as she's concerned, the trust has gone. But it's David's turn to worry this time as he walks in on his wife when she's in a hotel room with a stranger named Phil. But things are not as they seem…
What's happening in Emmerdale? See the latest soap storylines
Soaplife's interview with Emmerdale star Amy Walsh about Tracy Metcalfe and her secret past
Soaplife: What's gone wrong between David and Tracy?
Amy Walsh: "It has been rocky since Leyla Harding left the village because Tracy heard her tell David that she loved him. He's been going off to these conferences and he's been lying about where he's been. Then she found a text from Priya Sharma, but she didn't know it was about him sleeping with Leyla. She bought his lies, but there's still that niggling doubt at the back of her mind."
S: What does Tracy make of Phil?
AW: "She finds him a bit weird and there's something very fishy about him. He starts to threaten her, then tells her that he knows her from the past. He was a punter when she was a prostitute."
S: How does she react to that?
AW: "With horror and dread. Tracy's always looking over her shoulder and she's waiting for the rug to be pulled from under her. This is obviously a thing she doesn't want anybody to know about."
S: Will anybody believe Phil?
AW: "He has this footage of her on his phone, which he makes her watch. She's so vulnerable in that moment. Her street instincts come to the fore and she has to fight in order not to lose everything. For one horrible moment, she thinks that hubby David and dad Frank have watched it."
S: How does she try and stop Phil showing people the footage?
AW: "He threatens to blackmail her. He says that if she can pay him £1000, he won't send the video to David. She decides to take some money that Frank's saving so that he can buy Megan Macey a necklace. She goes to meet Phil, but her conscience kicks in and she can't hand the money over."
S: Is she afraid of David finding out?
AW: "I think she overestimates him. She completely believes that he'll always be there for her no matter what."
S: How will Tracy stop Phil showing everyone the video?
AW: "She agrees to pay him in kind. She goes to a hotel with him and she's all dressed up. They have a drink together and he starts to undress her. She's disgusted, but she goes along with it as she has a plan. They get on the bed and… then David walks in."
S: How does David react?
AW: "I can't tell you, but I think you can imagine that his reaction won't be great. He instantly assumes that she's having an affair."
Emmerale continues on ITV.
Get the latest updates, reviews and unmissable series to watch and more!
Thank you for signing up to Whattowatch. You will receive a verification email shortly.
There was a problem. Please refresh the page and try again.