'Vanessa will be devastated if Adam's the baby's father,' says Emmerdale's Michelle Hardwick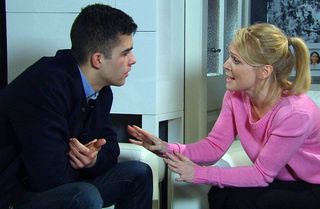 Michelle Hardwick (opens in new tab) shares Vanessa's latest drama with Soaplife… The Emmerdale vet is having a baby - and doesn't know who the daddy is!
When does Vanessa realise she's pregnant?
"She hasn't been feeling well and then the penny drops. She buys a pregnancy test, which turns out positive."
How does she react to the news?
"She's never wanted children. It's not been in her life plan, so she thinks she must get rid of the baby."
What's happening between her and Kirin (Adam Fielding (opens in new tab))?
"They're back together and in love. They're in a good place at the moment, although she feels guilty about what happened with Adam [Adam Thomas (opens in new tab)], even though technically neither of them were cheating as they'd split up from their respective partners when they had their one-night stand."
And how are things with Adam?
"They both regretted what they did the morning after. They've both agreed to keep it to themselves, but now he could be the baby's father and, if he is, she'd be devastated."
So she's going to have an abortion?
"She thinks the only way out is to have an abortion as that will also keep her night with Adam a secret."
But she changes her mind…
"She sees Marlon [Mark Charnock (opens in new tab)] and Leo playing happily, and something hits her. She's 39 and she realises she might not get another chance to be a mum. Suddenly, she wants to get to know this baby."
Who does she tell first?
"She tells Rhona [Zoe Henry (opens in new tab)], who questions who the father is - and the look on Vanessa's face says it could be Adam's. So she tells Adam next and he's stunned. She says there's a possibility the baby could be his, but she asks him to stay out of her life and let Kirin bring up the baby."
Does Kirin want the baby?
"He's over the moon when Vanessa tells him. Obviously, he's a bit shocked as he's only 18, but he says he'll man up and won't do what he did over the cancer scare. He assures Vanessa he'll bring this baby up. He wants to tell Rakesh [Pasha Bocarie (opens in new tab)], but Vanessa doesn't want him to as she knows it isn't what Rakesh would want. She's opening up a can of worms doing it this way."
Emmerdale (opens in new tab), ITV.
Get the latest updates, reviews and unmissable series to watch and more!
Thank you for signing up to Whattowatch. You will receive a verification email shortly.
There was a problem. Please refresh the page and try again.