A Night In With Bros – BBC4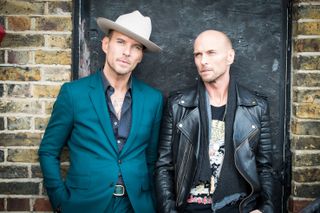 (Image credit: BBC/Fulwell 73)
Matt and Luke Goss reunite to discuss their musical influences, followed by another chance to catch THAT documentary, in BBC4's A Night In With Bros
Following on from Duran Duran and Keith Richards, Bros stage their own BBC4 takeover, controlling the channel's output for the night in A Night In With Bros.
Which brave soul allowed this to happen?!
Apart from tuning in to see if they can last the night without a bust-up, we're looking forward to watching Luke and Matt interview celebrity guests, perform live and look back at the TV, films and music that inspired them growing up.
Lots of details are still under wraps, but the brothers promise a night that's relaxed and fun.
We can't wait!
The brilliant documentary Bros: After the Screaming Stops follows at 11.30pm.
Here, Matt and Luke, both 50, reveal what's on the bill...
We're excited for A Night In With Bros – what can we expect?
Luke: Entertainment!
There'll be celebrity guests, live music and surprises, plus the broadcast of TV shows and films that had an impact on us growing up.
It's a true honour to be asked to do this and we want it to be a real giggle.
Matt and I have both been compiling our lists of world-class moments – we will see what prevails!
Matt: Growing up in the same house, obviously there's a lot of nostalgia we share and some things we are 100 per cent in agreement on.
It's going to conjure up tons of memories – I can't wait.
Luke: Plus we will be performing.
It would be crazy not to!
Bros: After the Screaming Stops was one of the most talked-about TV shows in years. What did you make of the reaction?
Luke: I was utterly blown away.
I was really intimidated, because I'm very private.
I'm a bit of a hippie; I usually go off to the desert and do my thing.
I never thought I would feel welcome here again, I felt exiled, but now I'm utterly stunned by how lovely everyone has been.
Matt: We hoped the reaction would be good, but we couldn't believe how much it affected people.
I'm immensely proud; it was humbling.
TV Times rating: ****
Get the latest updates, reviews and unmissable series to watch and more!
Thank you for signing up to Whattowatch. You will receive a verification email shortly.
There was a problem. Please refresh the page and try again.