A tragedy brings Valerie and Barry together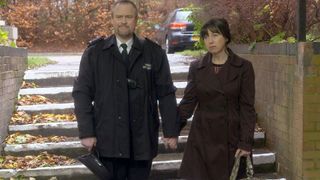 Barry asks Rob to be his best man when Valerie calls and asks him to help student Chloe look for her friend Han. When Barry spots a body in the lake and the police confirm it's Han, Barry tactfully tells Chloe the bad news as Valerie slips her hand into his.
During a performance appraisal, Sid tells Zara that a GP spotted he had meningitis as a child which made him want to become a doctor, so that he could save lives. Zara's impressed and confirms that he's a valuable asset to the practice. Sid thanks her but, as he hurries out, Zara wonders who was really in control of that assessment.
Niamh's thrilled when she gets a call from Ben to ask her out on a date. Later, she spots Heston slaving over a thick pile of printouts. He's preparing for his performance review and it's clear Anthony has left him feeling he's got something to prove.
Get the latest updates, reviews and unmissable series to watch and more!
Thank you for signing up to Whattowatch. You will receive a verification email shortly.
There was a problem. Please refresh the page and try again.