An uninvited guest shows up at Freddie's funeral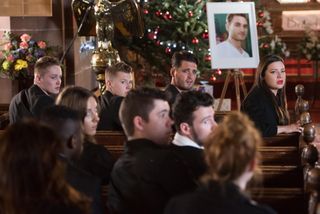 As the Roscoes prepare for Freddie's funeral, Lindsey's annoyed when Joe puts her in the friend-zone. Lindsey plants a reminder of baby Gabriel for Mercedes to find, which results in her not going to the funeral. The Roscoe brothers wait in the village for the hearse, and they're furious when they find out about Darren and Grace. At the church, Joe does his eulogy and, just as he's thanking Lindsey for her support, an uninvited guest shows up, who could be about to ruin everything for the doctor… it's Kim, who bursts in wearing her hospital gown!
Meanwhile, Louis receives a card from Joanne and quickly hides it from Simone, while Zack finds a visiting order for Simone from Trevor. Louis worries about Simone going back to practicing law. Later, Louis comes home for lunch to find a seductive Joanne waiting for him on the couch…
Delighted that Charlie's talking, Nancy walks him to the nativity play at The Bean but he clams up again when he sees Lindsey. Later, Nancy tells Darren she loves him.
Also, Ste's been drinking and Tony finds him hungover at the Lomaxes. At The Bean, Ste overhears Harry on the phone to 'Chad' and thinks he's arranging a date, so decides to gatecrash.
Get the latest updates, reviews and unmissable series to watch and more!
Thank you for signing up to Whattowatch. You will receive a verification email shortly.
There was a problem. Please refresh the page and try again.