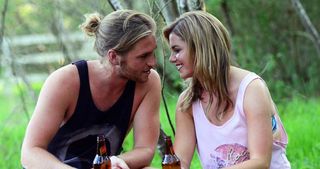 A nervous Denny spends a romantic day with Ash. Things go so well that the pair spend the night together in his caravan. The morning after, Ash is walking on cloud nine; yet Denny isn't so happy…
Phoebe doesn't take Kyle's proposal well. She runs off stage, furious that Kyle would make a private moment so public and spends the night at Ricky's. The next morning the pair argue as Phoebe feels Kyle has only proposed because he doesn't want to feel alone. Kyle tries to tell Phoebe she's wrong, but she doesn't believe him.
After sleeping together after the Colour Run, Kat unintentionally sleeps over in Nate's caravan. Having to walk home in yesterday's clothes, the pair are caught by Roo and Ash. Later, Roo teases Kat and with gossip spreading like wildfire, Kat decides to end things with Nate.
Nate goes to check on Hannah and her physiotherapy progress but she wants to know about Nate's relationship with Kat. Nate distracts Hannah from his love life by testing her progress and she manages to stand for the first time since the accident.
Get the latest updates, reviews and unmissable series to watch and more!
Thank you for signing up to Whattowatch. You will receive a verification email shortly.
There was a problem. Please refresh the page and try again.