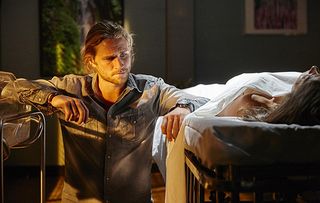 How will Ash move on with his life?
Ash is beside himself with grief as he stares at the bodies of Kat and his unborn child. Meanwhile, an injured Robbo calls the hospital and is devastated to learn that Kat has died. Tori and Justin take Ash home and promise to look after him. The next day, Ash goes missing, but Justin tracks him down at the beach and Ash furiously blames Robbo for Kat's death. Justin takes Ash home and he tells Tori to give Ash the address Robbo gave to her, so Ash can get some closure. Tori refuses, as she fears Ash will do something reckless. So Justin takes matters into his own hands…
As Summer Bay comes to terms with Kat's death, Ben starts to panic as he can't find Maggie. Coco helps with the search, but grows increasingly anxious as they can't find her. Eventually, they find Maggie collapsed underneath the pier. She's rushed to hospital, where Tori conducts some tests. When Maggie wakes up, her family is by her side - but will her test results give her the all-clear?
Tobi Oredein is an award-winning women's lifestyle journalist, media entrepreneur and international public speaker based in London, who focuses on race, feminism, beauty politics & popular culture. Tobi has been commissioned by Buzzfeed, British Glamour, Grazia, Elle UK, Fader, The Debrief, The Independent, The Pool, Stylist, Vice and others. She has also interviewed public figures such as Ryan Coogler, Ava Duvernay and Sir Trevor McDonald.
Get the latest updates, reviews and unmissable series to watch and more!
Thank you for signing up to Whattowatch. You will receive a verification email shortly.
There was a problem. Please refresh the page and try again.