Ayesha jumps to conclusions when police come for Karl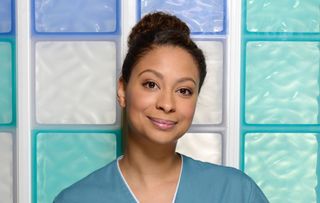 (Image credit: BBC)
Is Karl telling Ayesha the truth and will she believe him?
Ayesha's left bemused when Rob knocks on the door looking for Karl. She covers for her brother and demands to know why the police want to know his whereabouts. When she confronts Karl, he claims to have no idea why the police are looking for him.
After some digging, Ayesha discovers Karl had gone AWOL! Ayesha's furious, but when Karl explains his side of the story and why he's left the army, she's left stunned.
Meanwhile, Mrs Tembe is packing her bags, ready for her motorcycle holiday with JJ. Karen, however, still can't shake her suspicions when it comes to JJ and his intentions. When Rob tells Karen that a fellow police officer needs to speak to JJ about a confidential issue, will Karen's hunch about JJ be right?
Tobi Oredein is an award-winning women's lifestyle journalist, media entrepreneur and international public speaker based in London, who focuses on race, feminism, beauty politics & popular culture. Tobi has been commissioned by Buzzfeed, British Glamour, Grazia, Elle UK, Fader, The Debrief, The Independent, The Pool, Stylist, Vice and others. She has also interviewed public figures such as Ryan Coogler, Ava Duvernay and Sir Trevor McDonald.
Thank you for signing up to Whattowatch. You will receive a verification email shortly.
There was a problem. Please refresh the page and try again.