Belle is stunned when Gerry puts the moves on her!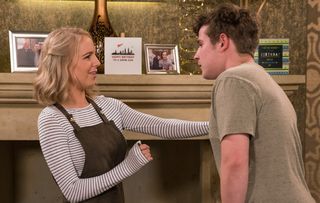 Belle is stunned when Lachlan's so-called mate Gerry tries to kiss her! Lachlan finds Gerry at it and plots revenge…
Lachlan's livid when he finds his so-called mate Gerry putting the moves on his girlfriend Belle. Fuming, Lachlan decides Gerry deserves payback – and some. With Lachlan's dark streak having seen him shoot his own granddad, Gerry should start watching his back…
As the court case continues, things are looking good for rapist Pierce. Rhona has crumbled in the stand, and the witnesses haven't fared well. Rhona is absolutely fuming that her former husband – who raped her on their wedding day – is lying so blatantly in court. When she runs into him during a break from the case, spotting him entering a side room, she confronts him and is gobsmacked – and vindicated – when Pierce admits he did rape her. Question is, will he say the same in court?
Knowing Chrissie has been meeting up with Tim, unaware that he's her uncle, Lawrence tries to put her off from seeing him again.
Get the latest updates, reviews and unmissable series to watch and more!
Thank you for signing up to Whattowatch. You will receive a verification email shortly.
There was a problem. Please refresh the page and try again.