Bill Turnbull: Staying Alive – C4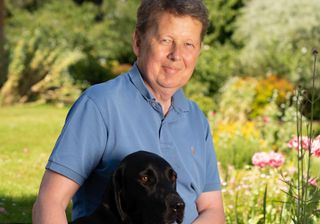 (Image credit: Pete Dadds)
Ex-BBC Breakfast host Bill Turnbull on why he wanted to make C4 documentary Bill Turnbull: Staying Alive about his battle with prostate cancer
When Bill Turnbull discovered he had incurable prostate cancer in 2017, he was left reeling, as we see in C4's moving documentary Bill Turnbull: Staying Alive.
He'd not long left a long stint on BBC Breakfast and was looking forward to swapping the 3am starts for a slower pace of life.
Now, in this documentary, Bill tries new therapies, including cannabis, in the hope of a cure, and opens up about learning to live with cancer.
Here, Bill, 63, tells us why he hopes his story might help others…
Bill Turnbull: Staying Alive is extremely personal. Why did you do it?
A few years ago, cancer was a topic no one wanted to talk about and I'm a big believer in shining a light on it.
Cancer can put you in a lonely place sometimes, so I hope other people with cancer will see they're not alone.
Can you remember back to the day of your diagnosis?
I'd had these aches and pains, but I just thought, 'It can't be that serious,' and, like a lot of men, I had this aversion to going to the doctor.
But my son, Will, kept saying, 'You really should get checked out.'
You could have knocked me over with a feather when I got the diagnosis.
We see you trying medical cannabis – what was that like?
It gave me the giggles!
I haven't carried on taking it – although if I got to a situation where all else has failed, then I'd probably go for it.
It's made me realise that, as a country, we need to have a much more grown-up conversation about medicinal cannabis.
Do you have any dark times when you think about the future?
I've reached an arrangement with myself about death – and it may change when it gets closer – but for the time being, I'm okay.
Sometimes I go down to the bottom of the garden and I shout at my cancer, and tell it to get stuffed.
I say, 'Not today, you're just not having me today.'
TV Times rating: ****
Get the What to Watch Newsletter
The latest updates, reviews and unmissable series to watch and more!