Cain falls into Emma's trap when he boots her out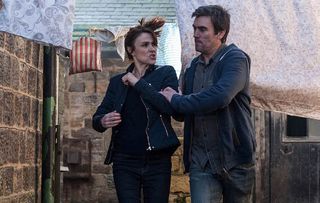 (Image credit: Andrew Boyce)
Emma has Cain right where she wants him when he flips out at her in Emmerdale - and Moira finds out…
When Cain finds Emma in Holly's room he flips! Furious to see her inside his ex-wife's dead daughter's room, he orders her to leave. And when she refuses – he drags her out!
Thing is, Emma's been asked to pack up Holly's clothes as Moira's been unable to face it herself. Moira's shocked when she finds Cain manhandling scheming Emma, who soon finds a way to make life even more difficult for Cain.
With Frank having been attacked, his daughters Tracy and Vanessa want their dad to report it to the police. But with Frank not having been entirely truthful about what really happened and his connection to his attacker, will the detectives fall for his tale – and will he come clean to his girls?
With Lachlan due in court, Chrissie is on edge so she's not best pleased when her little sister Rebecca warns her to 'prepare for the worst'! Lawrence isn't impressed either and Rebecca is stunned to see where her dad's allegiance lies.
Get the latest updates, reviews and unmissable series to watch and more!
Thank you for signing up to Whattowatch. You will receive a verification email shortly.
There was a problem. Please refresh the page and try again.