Cara is caught up in Jed's mess!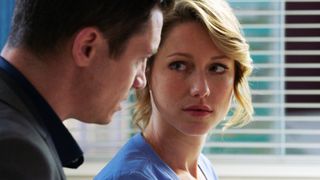 (Image credit: BBC)
Still reeling from the news that her husband, undercover cop Jed, got another woman pregnant, Cara's thrown when the woman, Nicole Brady, returns to Holby and goes into labour. Cara's heartbroken as Nicole rings Jed, asking him to be at the birth! Cara orders Jed to leave – she can't have him there as she watches Nicole give birth to his child! Jed says he's got to stay, however, to make sure Nicole doesn't say anything to her gangster husband Sean that may compromise the undercover operation he's working on.
Later, Sean grows suspicious when Cara lets slip that the baby boy is six weeks' premature. When Nicole realises Sean knows the baby isn't his, Cara promises she'll help her get away. But with a bitter and betrayed Sean on the warpath, Cara knows that might not be easy…
Following the death of her friend Sorcia, Mo's busy looking after Sorcia's son, William, the boy Mo carried for Sorcia as a surrogate. Ollie and Zosia can see the stress Mo's under – but convincing Mo to let one of them babysit while she goes for a drink proves tricky. Later, however, buoyed by a positive outcome for her patient, Mo takes them out for a drink instead!
Also, after his bombing ordeal, Guy cancels his surgical commitments but is drawn back into surgery when a patient believes he's going to die – today! Fran notices when Guy overreacts to an abandoned bag on the ward, fearing it's a security risk. When his patient panics, Guy agrees to cancel surgery. But is he calling the patient's bluff - or has he simply lost his nerve?
Get the latest updates, reviews and unmissable series to watch and more!
Thank you for signing up to Whattowatch. You will receive a verification email shortly.
There was a problem. Please refresh the page and try again.