Cara's suspicious of Raf's patient Lucy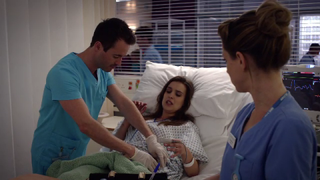 Surgeon Raf's surprised to see one of his past patients back in AAU – Lucy, the girl who needed reconstructive surgery on her jaw a few months back. It seems the wound on her hip, where bone was taken from for her op, has reopened and is giving her pain – but nurse Cara quickly notices how keen Lucy is to be treated by Raf, rather than another doctor, and how chatty and friendly they are. Then, later, when Cara sees Lucy give Raf a wrapped present – and him surreptitiously pocketing the gift – alarm bells ring!
When Fletch happens to mention Raf has exchanged texts with Lucy, who has ambitions to be a doctor herself, and that they've also met for coffee, Cara grows concerned. Deciding to warn Raf against putting his career in jeopardy, Cara tries to tactfully suggest that Lucy might have a crush on him, and that accepting gifts from her could be misinterpreted. But her attempt to be a good friend backfires when Raf immediately goes on the defensive, reacting angrily. Later, however, Cara has reason to suspect that she's been right about Lucy all along...
Meanwhile, when Sacha puts Dominic in charge of a hospital 'taster day' for some students, the young doctor hopes it'll earn him some much-needed brownie points with hospital boss Hanssen. But instead of keen would-be medics, the group turn out to be a bunch of stroppy teenage girls - and when they run amok on a ward full of patients, who should walk in to witness the chaos but Hanssen?! Dom's sure he's in for a dressing down from the boss, but he manages to redeem himself when he's the only one to realise something's very wrong with one of the young students…
Also, when Hanssen offers Elliot a new role as head of research at Holby, which would mean stepping back from surgery, Elliot faces a difficult choice. Surgery is Elliot's passion - but can he turn down the opportunity of a lifetime?
Get the latest updates, reviews and unmissable series to watch and more!
Thank you for signing up to Whattowatch. You will receive a verification email shortly.
There was a problem. Please refresh the page and try again.