Casualty spoilers: Dylan Keogh's baby shock!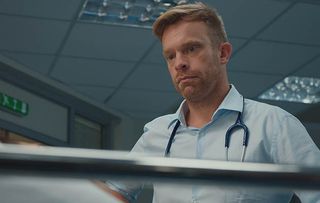 (Image credit: BBC)
Casualty spoilers: Dylan Keogh's baby tragedy. Iain and Ruby's explosive bust-up. Jacob Master's mother reveal…
This week's Casualty ticks a lot of boxes for fans of Dylan Keogh including scenes of the stoic doctor brooding on his boat, interacting with his beloved dog Dervla, and in top sarcastic form with a patient determined to find fault with the NHS.
Behind the humour, however, tragedy is lurking. When Dylan's ex-girlfriend, Ciara Cassidy, is brought into the ED suffering abdominal pain, he does everything he can to avoid Ciara and her husband Joel. But with the ED short-staffed, Dylan has no choice but to treat Ciara in the presence of her husband!
Dylan discovers Ciara is pregnant and tragically may lose her baby. Ciara asks Dylan to help her hide the truth from Joel, as Dylan is the father of the child. Both Ciara and Dylan are distraught as they come to terms with the loss of their baby. Heartbroken, will recovering alcoholic Dylan turn to booze to dull the pain? Read our interview with William Beck, who plays Dylan, for more insider info
Elsewhere, Iain's attempts to help heroin addict Base backfire, causing him to clash with fellow paramedic Ruby…
Iain is hopeful he can help Base when he manages to secure him a place in rehab. Iain's certain he can admit Base to the unit on his lunch break, but first he has to give paramedic partner Ruby the brush off.
Once Iain's made his excuses to go home, he picks up Base, but makes the dire mistake of leaving Base alone in the ambulance for several minutes! Drug addict Base betrays Iain's trust, leaving Iain with some awkward questions to answer. Later, Ruby jumps to the conclusion Iain's a drug addict and the pair have a massive bust-up!
Meanwhile, nurse Jacob Masters is thrown when his teenage son Blake starts asking questions about Jacob's mum, Omo. Jacob's evasive but gives Blake just enough information for the curious teen to track Omo down at a local Baptist Church.
Omo (EastEnders' Ellen Thomas in a new recurring guest role) seems lovely to Blake, so why is she estranged from Jacob?
Also this week paramedic boss Jan Jenning takes a tough love approach to Iain and Ruby, forcing them to work together. With Iain's maverick style incompatible with Ruby's by-the-book methods, what could go wrong? Nurse David Hide tiptoes around Dylan and Ciara in the ED. Meanwhile Ciara's husband Joel (Gyuri Sarossy) is highly suspicious of his wife's relationship with Dylan. And nurse Duffy Fairhead isn't feeling herself. She makes a GP appointment for next week and asks Robyn to cover for her…
Read our interview with William Beck, who plays Dylan, in this week's What's on TV magazine (on sale Tuesday 18 September).
Get the latest updates, reviews and unmissable series to watch and more!
Thank you for signing up to Whattowatch. You will receive a verification email shortly.
There was a problem. Please refresh the page and try again.