Casualty's Connie Beauchamp and Jacob Masters reunited?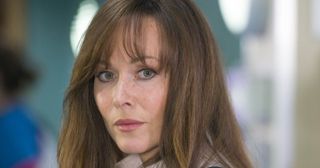 (Image credit: BBC)
We've discovered a new fact about Casualty's Jacob Masters this week – he's afraid of public speaking... and Connie Beauchamp kinda likes it!
Jacob's lost his confident swagger, as he prepares to give a talk at a medical conference to the heads of the trust. Realising Jacob's a walking bag of nerves, and worried about the reputation of the ED, Connie decides to tag along at the last minute to keep an eye on her jittery ex…
But their car journey's interrupted when a rain-drenched man frantically pounds on the car window begging for help, as someone's trapped down a storm drain!
While Connie calls the emergency services, Jacob races to help the trapped man, only for both of them to be swept down the drain and into the river. Terrified Connie races after them and is openly relieved when Jacob manages to pull both himself and the injured man to safety moments before they plunge over a waterfall!
Will this near-death experience passionately reunite the former lovers? Watch our video with Charles Venn (Jacob Masters) talking about his love of doing stunts on Casualty and working on intimate scenes with Amanda Mealing, who plays Connie.
Elsewhere, Rita goes to great lengths to steer clear of Iain, since he cruelly dumped her last week. She hides behind a car to avoid him, only to bang her face on the wing mirror. As a black eye emerges on her face, Rita tells Louise her ex-husband Mark did it … knowing word will get back to Iain.
How far will she take her lies?
Also this week, David's deeply affected by the death of a young heroin addict – could this tell us more about his mysterious past?
Watch our video with Jason Durr, who plays David, for more on this.
Get the latest updates, reviews and unmissable series to watch and more!
Thank you for signing up to Whattowatch. You will receive a verification email shortly.
There was a problem. Please refresh the page and try again.