Coronation Street spoilers: Geoff Metcalfe takes his frustrations out on Yasmeen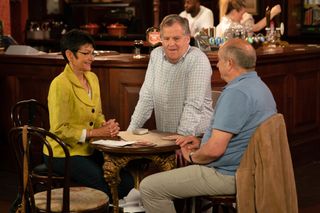 Geoff Metcalfe continues to assert his control over Yasmeen...
As the bridge night descends into chaos in Coronation Street and allegations of cheating, Geoff Metcalfe takes it out on Yasmeen and back at home accuses her of undermining him.
Gemma introduces Michael to Bernie and explains that he's come to fix the loo. Having ushered Gemma off to work, Bernie admits to Michael that she blocked the loo on purpose to allow her to harvest Gemma's wee and sell positive pregnancy tests on the internet, Michael is gobsmacked.
Michael advises Bernie that if she wants to make serious money she should buy the pregnancy kits in bulk and sell them on a legitimate site. He agrees to go into business with her for 25% of the profits.
Steve spins a yarn to Tracy about having to help with the funeral of a family friend. Emma is grateful to Steve for helping her, oblivious to the fact he may be her dad but he still wants to know the truth so starts researching DNA tests.
Robert tries to sort things out with Vicky and agrees to stay the night.
Second episode of Coronation Street tonight.
Get the latest updates, reviews and unmissable series to watch and more!
Thank you for signing up to Whattowatch. You will receive a verification email shortly.
There was a problem. Please refresh the page and try again.