Coronation Street spoilers: Michelle Connor realises Robert has been lying to her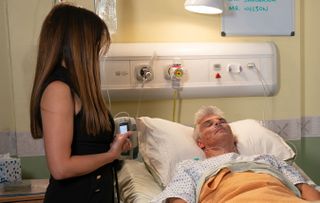 Michelle Connor is stunned when she pots a 'Daddy' necklace next to Robert's hospital bed.
Desperate Michelle Connor can't get through to Robert in the second episode of Coronation Street tonight (8.30pm, see our TV Guide for full listings). When the police call her from his phone, she is stunned to hear he has been in a serious accident and baffled as to why he is being taken to Macclesfield Hospital when he was supposed to be in Sandbach. At the hospital she can't understand why he's asking about a baby and then she spots his big Daddy necklace nest to the bed. Is the game up for Robert? Roy confides in Carla that he's discovered his mother had a son, Richard, as a result of her affair and put him up for adoption. When he then reveals that he has an address for Richard, Carla insists they should track him down. When they arrive at the address, Roy is surprised when a young woman, Nina, answers the door and denies knowing anyone called Richard. After closing the door, Nina tells her dad Richard that it was just someone collecting for charity and the pair continue with their game of Scrabble.
Gary masks his jealousy as Emma tells Ali how Maria stuck up for him with Dr Gaddas. Later, Gary turns up at Maria's with a designer handbag but when she questions how he can afford it he is forced to lie and say it's a fake.
Geoff returns home to find Yasmeen with their bags packed, hopeful they can still make the flight but he accuses her of being controlling. Having finally agreed to go ahead with the holiday, Geoff loads the cases into the taxi as Alya hugs Yasmeen and wishes her a lovely time.
Gemma and Chesney return home only to receive a call from the hotel in Llandudno telling them they owe £500 for extras. Gemma opens the fridge door to find it stuffed with miniatures as a sheepish Bernie explains that she thought they were free.
Get the latest updates, reviews and unmissable series to watch and more!
Thank you for signing up to Whattowatch. You will receive a verification email shortly.
There was a problem. Please refresh the page and try again.