Coronation Street spoilers: Peter realises Carla Connor is seriously ill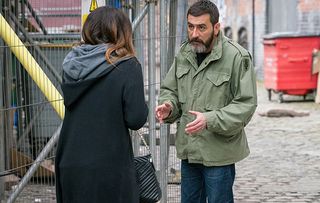 (Image credit: Andrew Boyce)
Peter sees a paraniod Carla Connor barefoot in the street
Peter and Ken worry for Carla Connor as she scribbles the words "watching" and "murder" on a crossword and throws her tea down the sink convinced she's being poisoned. As her paranoia swirls out of control she leaves the house barefoot.
When Peter goes to look for her he finds her staring at the remains of the factory and, realising she's seriously ill, takes her to the medical centre. Carla thinks it's a trap and as Toyah takes her through to the consulting room, explaining to Peter that Carla needs to see a mental health specialist, she panics. When the two return they are horrified to learn Carla has made her escape via the window. Having summoned the police, Peter reports Carla missing.
Imran's fury continues as Nick heads out to open the new factory. Imran later finds a shoulder to cry on when Nick reveals that his dad was murdered and assures him that although grief never leaves, it lessons and you learn to cope with it.
Sally is keen to get Tim's blood pumping and suggests they go for a power walk. When Steve and Dev make jokes about Tim's heart attack, Sally bristles and points out they're a pair or ticking time bombs themselves. Sensing a competition, Dev suggests to Steve and Tim that they all put £100 in a kitty and whoever can lower their heart age the most over the course of a month wins the money.
With the improvised factory up and running, Nick finds himself in the thick of it. When the police turn up requesting company accounts, Sarah hands them over, glad to be of help. Nick worries as he alerts David to the fact that if the police spot Audrey's money in the accounts, they could be looking at a prison sentence.
Gary tries to conceal his guilt but his heart sinks when Alex presents Cathy with an expensive bracelet for her birthday which he realises must have been bought with Rick's loan.
Hour Long Episode of Corrie.
Get the latest updates, reviews and unmissable series to watch and more!
Thank you for signing up to Whattowatch. You will receive a verification email shortly.
There was a problem. Please refresh the page and try again.