Coronation Street spoilers: Roy Cropper smells a rat at Rosemary's séance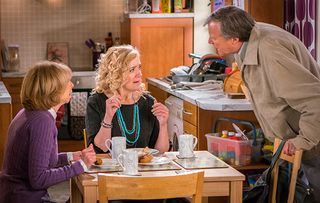 (Image credit: Andrew Boyce)
Roy Cropper and Gail attend a séance and while Gail's all ears Roy is left feeling angry at her lies.
Rosemary conducts a séance in the presence of Gail and a sceptical Roy Cropper. When she claims to be in contact with Hayley and Alma, Gail's impressed whilst Roy's upset and shares his concerns with Audrey, convinced Rosemary's a con-merchant and there must be a rational explanation for her knowledge. Gail agrees to attend Rosemary's psychic event at church tomorrow and Audrey insists on coming with her.
Antoine dupes Rosie into thinking he's no longer a dealer but working undercover for the police and needs her help. Antoine pins an MP3 player to Rosie making out it's a wire connecting her to the police and instructs her to wait for Alan and hand over the drugs. Is Rosie in trouble?
After their dog training session, Sharon gives Kirk a bag of her ex husband's old clothes. Steve begs Robert not to tell Tracy about his pass at Michelle.
Second episode of the evening.
Get the latest updates, reviews and unmissable series to watch and more!
Thank you for signing up to Whattowatch. You will receive a verification email shortly.
There was a problem. Please refresh the page and try again.