Coronation Street spoilers: Tim Metcalfe blackmails Duncan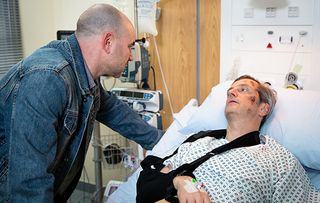 Tim Metcalfe shows Duncan the picture of May and suggests from now on he'll do as he's told.
Discovering Duncan's critically ill in hospital, Tim Metcalfe admits to Sophie that he gave chase, Duncan was hit by a van and he left him for dead.
Sophie goes to the hospital where she's stunned to find May. Making out she's a neighbour, Sophie tells May that Duncan has been moved to another hospital and offers to drive her there. Taking a photo, Sophie tells Tim she's got May in the car and she's their bargaining chip.
Tim heads to the hospital on a mission, showing Duncan the picture of May he suggests from now on he'll do as he's told. Will Duncan finally admit defeat?
The oncologist breaks the news to Sinead and Daniel that her cancer has grown, she needs radiotherapy immediately and therefore they must deliver the baby today. When Beth, Kirk, Carla, Craig, Sarah and Izzy descend on the maternity ward for an impromptu baby shower, Sinead's touched but Daniel finds it all too much and heads out.
Nick presents Leanne with a diamond necklace. But when Leanne posts a selfie of her gift online, Elsa confronts Nick and tells him the divorce is on hold as he clearly has more money than he lets on. How will Nick get out of this one?
Steve, Tracy and Amy arrive back from Tenerife. Steve's clearly loved up whilst Tracy is worn out with his constant sexual demands.
First episode of Coronation Street this evening.
Get the latest updates, reviews and unmissable series to watch and more!
Thank you for signing up to Whattowatch. You will receive a verification email shortly.
There was a problem. Please refresh the page and try again.