Denise and Moray reunited!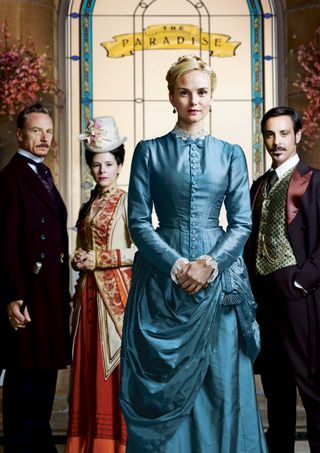 (Image credit: BBC)
After finally winning the heart of The Paradise's manager John Moray (Emun Elliot), ambitious shopgirl Denise Lovett (Joanna Vanderham) believed she would be living happily ever after at the end of last year's first series. But a year has passed since that happy day and the couple are still no closer to tying the knot, with Moray being sent across the globe looking for new stock!
With the department store struggling in his absence, Moray is recalled and he is desperate to marry Denise, but realising that a married woman may not have a job, she tells him they must wait to become man and wife.
Deciding that before they are wed they must first win back The Paradise they decide to postpone their wedding, but when it becomes clear that it was Katherine Glendenning - daughter of The Paradise's owner Lord Glendenning - who ordered Moray's return, it seems her feelings for the store manager have not faded since he jilted her at the altar last year!
Lady Katherine has since married a dashing former army officer Tom Weston, played by Merlin's Ben Daniels, but as the store's new owner, Mr Weston seems determined to use Moray to revive the store's fortunes before selling it off at a profit and then discarding poor Moray.
Yet his prospective buyer Mr Fenton is playing a dirty game of his own. Determined to drive down the price of the store, he bribes one of the store's employees to sabotage The Paradise by flooding the basement and ruining the new stock!
Thankfully Denise gets to the bottom of his villainous scheme and when Mr Weston finds out what's been going tells Fenton he'll never sell The Pardise to him.
Get the latest updates, reviews and unmissable series to watch and more!
Thank you for signing up to Whattowatch. You will receive a verification email shortly.
There was a problem. Please refresh the page and try again.