Dixie to the rescue, in action woman fashion!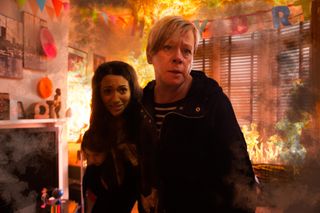 (Image credit: BBC)
Dixie finds herself unexpectedly propelled back into HART medic Jess's life again this week when she and paramedic partner Iain are called to a domestic incident and the patient turns out to be Jess!
Jess's volatile girlfriend Nikki has attacked her during daughter Olivia's birthday celebrations. Terrified Olivia calls for an ambulance but both Jess and Olivia are too scared to tell Dixie the truth, when she arrives.
At the ED the concerned nursing staff separates Nikki from her family. Left alone with Dixie, Olivia breaks down and the truth comes out. Once Jess realises Nikki's been hurting her daughter too, she vows to leave the abusive relationship once and for all.
Dixie helps Jess and Olivia pick up a few things from their home, but Nikki gives Ethan the slip, follows them and holds Olivia hostage with a knife! Olivia manages to break away from deranged, knife-wielding Nikki, but in the upset a fire starts. Brave Dixie manages to save everyone, including Nikki, who's left badly scarred from burn injuries…
Also this week, Charlie uses all of his powers of persuasion to make Cal come clean to his brother, Ethan, about their adoptive status and possible inherited illness.
Meanwhile, Ethan blames himself for failing to spot Nikki was abusing Jess and her daughter Olivia. So Cal decides to hold off dropping the adoption bombshell on his traumatized brother.
Lofty pulls out all the stops to impress Rita and convince her he's ready for promotion. But little does he know receptionist, Jack, has plans to wax and spray tan him, and put him up for a fundraising auction! Rita is unimpressed at the result and let's Lofty know she's not convinced of his professionalism.
Elsewhere, Connie gives loved-up Jacob the cold shoulder…
Get the latest updates, reviews and unmissable series to watch and more!
Thank you for signing up to Whattowatch. You will receive a verification email shortly.
There was a problem. Please refresh the page and try again.