Doctors spoilers: What is wrong with James?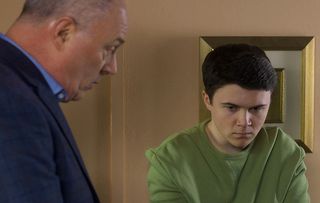 (Image credit: BBC)
Can Heston diagnose James?
Karen is still worried about James, so she books an appointment with Heston. Heston examines James and decides to run some tests - but what will Heston find?
Valerie is taking the residents of the elderly care home on a trip to the park and Al has convinced his mother Eve to go along. At the park, Eve is bored out of her mind and ends up leaving. When Valerie notices that Eve is missing after a headcount, she is distraught and calls Ayesha for help. Ayesha tells Al, who is livid with Valerie and gives her a piece of his mind. The three of them split up and Al eventually finds his mother. Eve is livid with her son and how he is treating her because of her dementia and the pair are soon at loggerheads….
After confessing her fears to Daniel, Zara says that her emotions are firmly in check and that she's back to her old self. Daniel sees right through her act and suggests they go for a walk in the park - what is Daniel up to?
Get the What to Watch Newsletter
The latest updates, reviews and unmissable series to watch and more!
Tobi Oredein is an award-winning women's lifestyle journalist, media entrepreneur and international public speaker based in London, who focuses on race, feminism, beauty politics & popular culture. Tobi has been commissioned by Buzzfeed, British Glamour, Grazia, Elle UK, Fader, The Debrief, The Independent, The Pool, Stylist, Vice and others. She has also interviewed public figures such as Ryan Coogler, Ava Duvernay and Sir Trevor McDonald.