Doctors spoilers: Zara receives a mysterious letter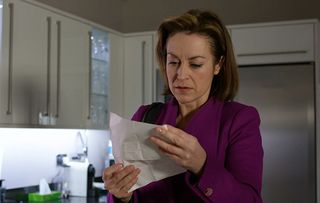 (Image credit: BBC)
Zara is left cold by a letter that is posted through her door...
Zara is getting ready for work when she gets a letter in the post. When Zara opens the letter she is left shaken. In fact, she is left so shaken by the letter that she can't drive herself to work and gets a cab. While at work, she snaps at both Mrs Tembe and Sid! Later, Daniel suggests they take Joe out for pizza, but Zara isn't in the right frame of mind and suggests they have some father-son bonding time. What exactly was in the letter Zara received?
Meanwhile, Ayesha and Mrs Tembe are excited about the outreach bus. Heston offers to help, but Ayesha tells Mrs Tembe to reject his offer, is Ayesha getting too big for her boots?
Finally, Al is unlike his usual self. He's relaxed and happy, but maybe it's because he is expecting a special guest…
Tobi Oredein is an award-winning women's lifestyle journalist, media entrepreneur and international public speaker based in London, who focuses on race, feminism, beauty politics & popular culture. Tobi has been commissioned by Buzzfeed, British Glamour, Grazia, Elle UK, Fader, The Debrief, The Independent, The Pool, Stylist, Vice and others. She has also interviewed public figures such as Ryan Coogler, Ava Duvernay and Sir Trevor McDonald.
Get the latest updates, reviews and unmissable series to watch and more!
Thank you for signing up to Whattowatch. You will receive a verification email shortly.
There was a problem. Please refresh the page and try again.