Dr Bailey finds out Belle's real age!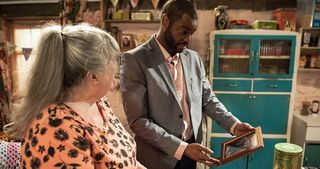 (Image credit: Andrew Boyce)
Belle's loving it when her secret lover Dr Bailey gives her a necklace while they're out on a date. But their meet up is cut short when Bailey gets called out to visit a patient at home. The patient turns out to be Lisa, Belle's mum, who's had an angina attack! As Dr Bailey tends to Lisa, he notices photos of Belle in a school uniform. He's left stunned when blissfully ignorant Lisa tells him her daughter is 17!
Furious to have been arrested, thanks to Charity and Ross involving him in their dodgy dealings, Finn warns them he has no intention of getting a criminal record on their behalf. When Charity and Ross clock Finn letting the police in to Dale View, is the game up for Emmerdale's Bonnie and Clyde?
Paddy's gone to Hamburg leaving Rhona alone in Emmerdale with Leo. The single mum is pleased to have Pierce around who's certainly making himself useful as he insists on cooking Rhona breakfast...
Jimmy suggests to Megan she should let Jai look after the baby. Jai is chuffed when Megan suggests they come to an arrangement with Eliza. Priya's amused by Rakesh's confidence as he watches a DIY tutorial.
Get the latest updates, reviews and unmissable series to watch and more!
Thank you for signing up to Whattowatch. You will receive a verification email shortly.
There was a problem. Please refresh the page and try again.