Dylan is appointed clinical lead!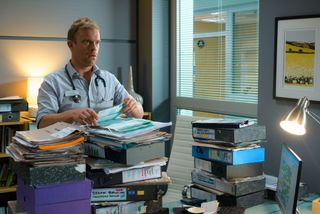 (Image credit: BBC/Warren Orchard)
With clinical lead Connie rumoured to be somewhere in Romania, speculation is rife among the staff of Holby City ED about who will fill her shoes! After some pressure from Zoe, Dylan Keogh reluctantly steps into the role...
His first day in the position happens to be a busy shift, with a fight breaking out in the waiting room among some angry teenagers, and the discovery that a local arcade owner is betting on terminally ill patients! But despite the challenges and the mountains of paperwork, Dylan seems up for the job. And his cocky brand of arrogance seems like a breath of fresh air to the ED staff, after Connie's manipulative and divisive management style…
Elsewhere, Charlie is back from Romania with his son, Louis, recovering at Holby hospital, after his kidney operation and drug ordeal!
Charlie struggles to keep a calm façade, as he can't help wondering – did he kill the Romanian drug dealer he ran off the road in Bucharest?
When a fight breaks out in the ED, Charlie flips. Tess takes him aside to try and figure out what's wrong.
Meanwhile, Lily strikes up a relationship with a Chinese mother, who is determined to die in order to give her daughter a better life. Lily helps the broken-hearted woman realise she has other options and repairs the relationship between mother and daughter. Afterwards, Lily is left wondering about the relevance of her ambitious "five-year-plan."
Elsewhere, when Max takes romance advice from Big Mac, Zoe fails to be impressed! And Dixie gives former paramedic pal, Iain, the cold shoulder.
Get the latest updates, reviews and unmissable series to watch and more!
Thank you for signing up to Whattowatch. You will receive a verification email shortly.
There was a problem. Please refresh the page and try again.