EastEnders spoilers: Mick Carter could be KILLED in jail!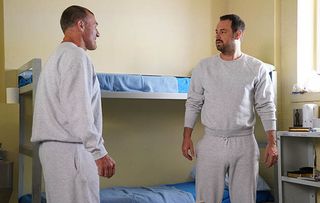 (Image credit: BBC / Kieron McCarron)
Mick gets himself into a spot of serious bother in prison, Jack struggles to keep his cool with Ray, and Sonia is concerned about Bex.
Mick is finding it difficult to settle in prison. He's relieved when his cellmate Bob has his back and steps in to help. It's Johnny's birthday and Mick feels bad about not talking to his son. When he gets the idea of getting hold of a burner phone to call Johnny, he's told to have a word with an inmate, Fraser.
After approaching Fraser, Mick realises that he's got himself in a very dodgy situation when Fraser wants a favour – and Mick realises he'll have to do what he's told. Meanwhile, Stuart is delighted that Mick's been banged up. Later, Mick asks Fraser for the phone and learns something that means his life may be in danger…
Jack gets a panicky text from Mel. He rushes round to the flat only to find out it's a burst pipe and nothing serious. Seeing Mel again, it gives Jack and Mel to talk about their break up and they finally call a truce. Ray, however, finds the pair talking and is not happy. When Mel is called away to work Jack is left with Ray and they're soon winding each other up. What will Jack do about it?
Sonia is concerned when Bex tells her that she wants to quit Sixth Form as she's constantly reminded of Shakil. Trying to find a way for Bex to continue her education, she suggests that Bex transfer to a college instead.
Also, Keanu is keen to prove to Sharon that he doesn't need to be a kept man and he decides to start driving minicabs.
EastEnders continues on BBC1 on Tuesday
Get the latest updates, reviews and unmissable series to watch and more!
Thank you for signing up to Whattowatch. You will receive a verification email shortly.
There was a problem. Please refresh the page and try again.