EastEnders spoilers: Tina Carter fights it out with the Ahmed sisters!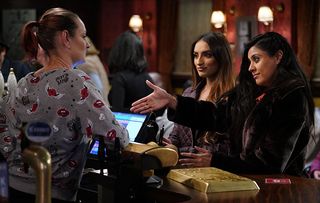 (Image credit: BBC / Kieron McCarron)
Tina ups her rivalry with Iqra and Habiba, Karen confronts a guilty Tiffany about Keegan, and Rainie plots to find out the truth about Stuart.
Tina arranges a pancake race at The Vic. When Iqra and Habiba get wind of it they announce a similar event at Walford East, just to wind her up! Tina and Callum go all out to drum up some business, while Billy's rivalry with Adam soon hots up. Iqra does her best to sabotage the event at the Vic but it doesn't go to plan.
Karen is in pieces after Keegan's collapse and she demands some answers. Keegan refuses to open up to his mum but Tiffany's shifty attitude makes Bernadette suspicious. Bernadette confronts Tiff and asks her if she was involved. Will Tiff tell the truth? Karen blames herself for Keegan going off the rails. She's horrified when Mitch confesses that he caught Keegan with drugs once before.
After an admission from Bailey that Keegan got the drugs from Tiffany, a raging Karen confronts her and Whitney in the Vic. Whitney chooses to believe Tiffany, who insists she had nothing to do with it. But when they get home the police are waiting… Is Tiff in big trouble?
Rainie is frustrated that Stuart's got his feet under the table at Dot's. She does her best to convince a skeptical Sonia that Dot could be in danger. When Tina overhears Sonia sticking up for Stuart she is gutted that Sonia is taking Stuart's side. Realising that Rainie is determined to uncover the truth about Stuart, Tina warns her that she's living dangerously. Rainie refuses to listen and she's soon fooling Stuart into thinking she's taken in by him, as a way to keep a close eye on him.
Also, Mo sneakily borrows some of Kat's money to go in on a deal with Kush when she double crosses him the truth comes out and a livid Kat and Stacey evict her!
Get the latest updates, reviews and unmissable series to watch and more!
Thank you for signing up to Whattowatch. You will receive a verification email shortly.
There was a problem. Please refresh the page and try again.