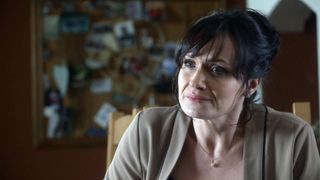 (Image credit: BBC)
At the coffee shop, Emma and Howard have a terrible date – in fact Emma even falls asleep. When she wakes, she's mortified and suggests they should do something nice at the weekend.  Howard agrees and they share a tender kiss.
Two patients, Mel and Aidan, realise they know each other from their school days. Niamh learns that Mel's been swallowing metal objects since her mother died - it was her way of coping. Aidan overhears and Mel shouts at him to get out. He refuses and we're left with a sense that this odd couple could have a future.
When Sharon goes into labour, Heston reports that the baby's heart rate is falling and Ruhma suggests they try the McRoberts Manouvre. The move is a success and the baby is safely delivered. Ruhma and Heston look at each other with respect and it's clear Ruhma has made a real impression on the GP.
Also, Ayesha finds out that she's in the clear – the drug tests back up her story.
Get the latest updates, reviews and unmissable series to watch and more!
Thank you for signing up to Whattowatch. You will receive a verification email shortly.
There was a problem. Please refresh the page and try again.