Emmerdale spoilers: There's disaster when drunk Daz Spencer gets behind the wheel of his new car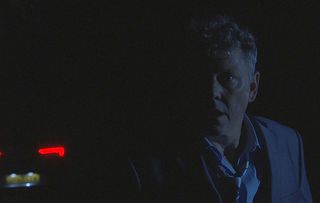 Drunk Daz gets behind the wheel of his car but there are terrible consequences
Having been angrily ejected from the cab by his new boss Trish, a drunken Daz Spencer finds himself stranded in the middle of nowhere with no phone and no money.
He begins making his way back along the lanes to Emmerdale in a state of inebriation, when he suddenly spots his new company car abandoned in a field.
The vehicle has been left there by teens Noah, Leanna and Amelia who took it for a joy ride. After crashing into a field the three youngsters have fled the scene.
Daz gets into the car and passes out for a quick nap but later awakes and decides he can drive it home.
As he gets behind the wheel and sets off along the road he's startled when Noah's phone, which the teen left behind, suddenly rings. A distracted Daz momentarily looks down but there's a load bang as he collides with something in the road.
Daz is terrified to realise he's hit something. Shaken he pulls over before looking in his rear view mirror to see a figure lying in the road!
A scared Daz gets out of his car but quickly legs it from the scene. What or who has he just run over?
Emmerdale continues weeknights at 7:00pm on ITV
Get the latest updates, reviews and unmissable series to watch and more!
Thank you for signing up to Whattowatch. You will receive a verification email shortly.
There was a problem. Please refresh the page and try again.