Find out who shot Robert as Emmerdale 'rewinds'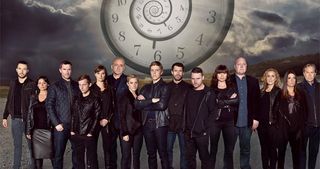 *Hour-long episode*
The clock rolls back to reveal what really happened the night Robert Sugden got shot as Emmerdale 'rewinds'…
It's two hours before Robert's shooting and Chas is in a panic about Aaron. Wanting to protect her son, knowing about Katie's dodgy death, she lies and tells Andy Robert was right about Katie wanting to leave him. Devastated that no one believes that Robert admitted to killing Katie and is now playing the innocent, Andy tears off in his 4X4. Aaron later tells Chas he still loves Robert and needs to get rid of him. He refuses to promise his mum he won't hurt his ex-lover.
Pollard stalks a drunk Chrissie. He wants her to plead guilty to killing Val but Chrissie is defiant – she's done nothing wrong bar wanting to get rid of her evil husband. Later, Lachlan and Lawrence both seem to be gunning for getting rid of Robert, too.
At Butler's, desperate Andy is looking for a gun as he's determined to get rid of Robert. Ross turns up and puts a killer plan forward. He'll get rid of Robert for Andy, if he agrees to do the same and get rid of Pete. He believes that way they will both get away with murder… Meanwhile, Pete tells Moira he's taken the farm's shotgun to protect himself from Ross.
Away from the village, at a party, Marlon gets friendly with a girl called Chloe while Paddy finds himself landed with her mate, Tess. As one thing leads to another, Paddy ends up accepting a lift home from Tess. In her car, Paddy pours out his troubles to the random stranger, who admits she's married, too, as passion strikes in the back seat!
Elsewhere, Ashley misses Harriet's fancy dress party as he's at the doctors for an appointment about his memory. The vicar is rocked when the GP suggests he may have early onset dementia and refers him to a specialist.
Later, outside the Woolie, Chas is having a go at Robert. She tells him she knows about all the evil things he's done and urges him to leave the village before he gets hurt. As they talk a shot rings out and hits Robert in the chest. Gunman Ross tosses away the weapon, which gets picked up by panicked Aaron. He saw Chas talking to Robert and though he didn't see who did it, he's worried his mum will get blamed for the shooting. Ross sneaks off unseen, before visiting Debbie to tell her he's leaving the village to keep away from Pete. Meanwhile, Andy appears at the hospital and asks staff to lock him up for his own safety – and the safety of others…
Get the latest updates, reviews and unmissable series to watch and more!
Thank you for signing up to Whattowatch. You will receive a verification email shortly.
There was a problem. Please refresh the page and try again.