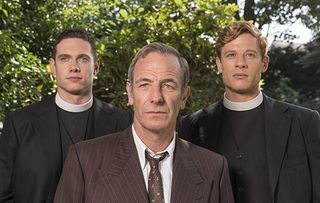 Great news Grantchester, the underrated gem of a crime drama is back for another series starring Robson Greene, James Norton and new cast member Tom Brittney
Great news: this underrated gem of a crime drama is back for another series
Not such great news: we know James Norton is leaving. Sob!
Still, he's with us in this opening episode, as a restless Sidney grows ever more tired of the petty foibles of the village.
Turns out solving a murder every week while also being the spiritual guide for the community just isn't exciting enough for him!
So his ears prick up when a civil rights campaigner from Alabama arrives in Grantchester and drama unfolds…
Meanwhile, Geordie (Robson Green) is less than impressed with family life now that Cathy has a job, there's a new chaplain, Will Davenport (Tom Brittney) in town and Leonard fancies himself as a poet.
TV Times rating: *****
There's drama, romance and tears for Sidney before he leaves. Here, James, 33, and Robson, 54, tease what's coming up and vow it's not the end for their friendship...
James, why are you saying goodbye to Grantchester?
James: It's been such an emotional decision. I've loved this job so much and I owe the show an enormous amount. Robson has been the best partner in crime both on and off screen – it's no secret that we have an amazing bromance! When Sidney's storyline with Amanda [his on-off girlfriend] was tied up and he chose the church over her, it seemed like that was the natural conclusion to his story. I felt it was time to give someone else a turn – if you want to carry on learning, you've got to take the plunge. Sally Wainwright is writing a third series of Happy Valley [in which James plays psychopath Tommy Lee Royce] and I'm starting to venture into film, so it feels like the right time to challenge myself.
Robson, how did you feel when you heard James was leaving?
Robson: We chat about it – I was in Sydney when series four was commissioned and James was doing a play in the West End. We spoke on the phone while he was in his dressing room, 10 minutes before he went on stage. We said it's okay because we'll be friends for ever anyway. There wasn't a dry eye on set when we filmed those final scenes. Even the director was sobbing – it was so beautiful and very dramatic. And then we all went out for a big meal, which was joyous.
What are your earliest memories of working together?
James: Robson's always been so warm and generous with his time and we've laughed so much. I remember the first scene – I was absolutely terrified. Robson had just returned from Thailand, so he was looking incredibly bronzed and film-starry, and I was standing there in my dog collar!
Robson: I was jet-lagged and James looked so tall and charismatic, I thought he'd been Photoshopped! He always had fantastic timing – you can't teach it.
How does it feel handing the baton over to Tom Brittney? [pictured above with Robson and James]
Robson: I did chemistry reads with 14 unbelievably talented actors, but as soon as Tom came in the room he was immediately likeable – there was something about him, such ease and charisma. Obviously it's sad to see James go, but Tom's arrival brings a different, fresh energy to the series, and he's so endearing.
James: I'm incredibly jealous! I believe he's the perfect person to join the show – he's a lovely man and really humble.
James, your dad pops up as an extra in every job you do. Did he have the chance to get a final appearance in Grantchester?
James: Yes. In fact, this is a bit embarrassing – we've got a scene with a big outside fete and not only is my dad coming, but my mum and my aunts as well! They've been begging me the whole time: 'Please can we?' So now my Aunt Bridget and Aunt Alison are in it, too. Have you pinched a little memento from the set?
James: Embarrassingly, I stole Sidney's watch last series and this year they had to ask me to bring it back! They also gave me a couple of dog collars, which I don't know what on earth I'll ever do with…
What can you tell us about Sidney's exit storyline?
James: I had a couple of light-hearted conversations with the producers offering my absurd, far-fetched versions of his exit, but inevitably they weren't picked up! I don't think it's a surprise that Sidney finds himself entangled in a complicated romantic mess again. There's an evangelical preacher from Alabama, Rev Nathaniel Todd, played by Paterson Joseph, who comes to Cambridge for a fundraising tour, along with his amazing daughter, Violet [Simona Brown], who is a real force of nature. They arrive and stir everything up. Violet is a formidable woman with an incredible sense of humour and, understandably, Sidney becomes intoxicated by her. But I definitely can't tell you how Sidney leaves!
Get the What to Watch Newsletter
The latest updates, reviews and unmissable series to watch and more!
TV Times Highlights Editor
As TV Times Highlights Editor I get to hear about all the latest TV shows coming soon. Here at TVT HQ we are in the privileged position of selecting the best programmes from across all the channels and streaming platforms. Our mission is to make it easier for our readers to decide what to watch - and give them lots of choice of genres - all the latest shows, plus some nostalgic choices we call hidden gems, too. My career began with a postgraduate degree in periodical journalism (ahem, yes old school!) in 1991 and I've worked in TV media since 2000.