Has Jimmi killed his father?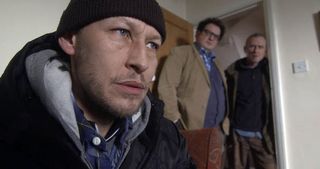 (Image credit: BBC)
Jimmi sits alone in Alun's house, his knuckles bloody, haunted by memories of the night before. He calls Bryn and tells him that he's at his dad's – and he's done something bad so Bryn quickly phones Al.
Bryn arrives at the house and finds Alun - Jimmi's beaten him to within an inch of his life. Al arrives and immediately calls an ambulance. Meanwhile, Jimmi reveals that his father treated him cruelly as a child but Bryn tells Jimmi that If Alun dies, it won't only be Jimmi facing questions – it'll be Al and Bryn, too. Al phones Bryn from the hospital and lets him know that Alun is alive but Bryn starts to fear just how much Alun is going to remember of the attack.
Alun wakes up in hospital and tells Al that he remembers everything. He wants to see Jimmi now – or he'll call the police. Alun tells Jimmi that he hasn't told anyone what happened – and he's willing to let bygones be bygones but Jimmi walks out - he'll never be able to forgive him.
Get the latest updates, reviews and unmissable series to watch and more!
Thank you for signing up to Whattowatch. You will receive a verification email shortly.
There was a problem. Please refresh the page and try again.