Holby City spoilers: Are Nicky and Zav more than just good friends?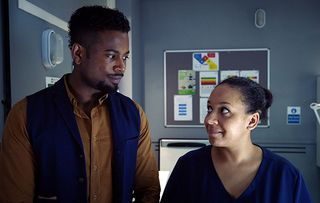 (Image credit: BBC)
Nicky gets close to Meena's boyfriend Zav…
The friendship between doctors Nicky McKendrick and Meena Chowdhury is tested when Nicky accidentally puts a spanner in the works between Meena and her boyfriend, smooth registrar Xavier 'Zav' Duval (Marcus Griffiths).
Meena (Salma Hoque) has been worrying that Zav has been acting coolly towards her and begs Nicky to find out how he really feels about her.
Unknown to Meena, however, Zav has taken a bit of a shine to feisty Nicky (Belinda Owusu). He recently lent her £12k to help pay off her debts and, this week, he happily takes on the task of assessing Nicky as she deals with a young patient with heart problems.
When Zav calls Nicky into Sacha's room for a debrief, however, Nicky accidentally knocks over a flask containing toxic E-coli germs. At risk of contaminating the whole hospital, they're forced to stay locked in until the dangerous spillage can be safely cleaned up.
As Nicky opens up about her debts and her drink problem, Zav emotionally confides in Nicky about the death of his younger brother – and it later becomes obvious to Meena that the pair have shared something more than just E-coli germs when Zav dumps her!
Blaming Nicky for the split, Meena rages against her friend, who tries to persuade her she's done nothing wrong. But is there something more than friendship between Nicky and Zav?
Meanwhile, Dom's commitment to Lofty is tested when he's offered a great career opportunity that he can only take up by breaking his promise that he'll be there to celebrate Sheilagh's birthday. What will Dom do?
When Professor Gaskell goes AWOL, Roxanna makes it her mission to track him down. She eventually finds him, and a lot more besides...
Holby City normally screens on BBC1 on Tuesdays at 8pm but is showing on Wednesday this week due to live coverage of the World Cup
Get the latest updates, reviews and unmissable series to watch and more!
Thank you for signing up to Whattowatch. You will receive a verification email shortly.
There was a problem. Please refresh the page and try again.