Holby City spoilers: Are Jac and Fletch about to kiss?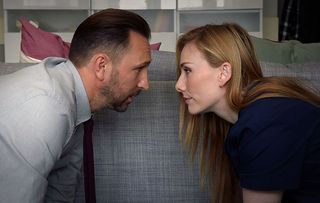 (Image credit: BBC)
As the temperature rises between them, will fiery surgeon Jac Naylor and director of nursing Adrian 'Fletch' Fletcher ever be more than just good friends?
Fletch remains confused over his dad's sudden departure last week, unaware it was his good friend Jac Naylor who told Steven to leave Holby. So they're both shocked when Steven returns to the hospital as a patient following a collapse.
Director of nursing Fletch (Alex Walkinshaw) demands an explanation from his dad about why he left – but he's furious when Steven (Jesse Birdsall) reveals surgeon Jac sent him packing when she believed he was keeping details of an hereditary illness from his son.
Steven convinces Fletch that Jac only did what she did because she really cares about him. In fact, the chemistry between the pair has been obvious to everyone for weeks and Frieda (Olga Fedori) tells Fletch it's about time they confronted whatever this 'thing' is.
As Fletch broaches the subject with Jac, she's adamant they're just work colleagues. Fletch, however, reckons they could be something more. When Jac makes it clear she doesn't want to discuss their 'relationship', Fletch refuses to leave her office until she agrees to talk!
Fletch says he understands she sent Steven away because she was trying to protect him and he reminds Jac of how much they've been through together. Fletch knows Jac's good at hiding who she really is but he's seen the real Jac… and he likes it.
As the atmosphere sizzles between them, will Jac and Fletch finally give into their feelings?
Meanwhile, Jason seeks the advice of his Holby colleagues in how best to propose to his autistic girlfriend, Greta.
And Lofty discovers that Dom is keen to have children - but will he be honest about his own feelings?
Holby City continues Tuesdays at 8pm on BBC1.
Get the latest updates, reviews and unmissable series to watch and more!
Thank you for signing up to Whattowatch. You will receive a verification email shortly.
There was a problem. Please refresh the page and try again.