Jade has the dream 16th birthday party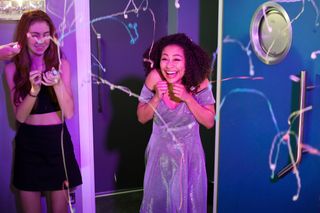 Jade and Lisa sit anxiously in the hospital waiting room with the Osbornes. They're called into the doctor's office and Jade is overwhelmed when she's told she doesn't have cancer. Jade can now look forward to celebrating her 16th birthday party in style – but things aren't quite what they seem…
Jade arrives at her skater-themed party at The Loft and, when Alfie gives her a lucky charm bracelet, it's clear the two teens want to be more than just friends. Meanwhile, having confided in Alfie that she misses Tom, Peri arrives at the party, where Tom wants nothing to do with her. Later, Peri asks Tom if they can be a family again. Lisa apologises to Jade for not being a better sister and tells her that she's going to reveal the truth about her identity to Simone and Louis. Later, Lisa prepares to tell Louis and Simone that she's not their real daughter.
Back at the party, the Osbornes present Jade with adoption papers, Jade and Alfie dance, while Zack and Sonia kiss. However, Jade is confused that the nurse and doctor from this morning are at her party. She drags Alfie to the top of the City Wall and screams that she loves life. Alfie and Jade kiss - but Alfie is confused when Jade isn't wearing her party dress anymore; she's wearing the clothes she had on at the hospital… Jade opens her eyes and she's back in the doctor's office after just being told she has cancer.
Get the latest updates, reviews and unmissable series to watch and more!
Thank you for signing up to Whattowatch. You will receive a verification email shortly.
There was a problem. Please refresh the page and try again.