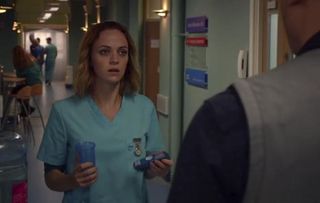 The eager medic pushes herself to the limit…
Jasmine Burrows is so desperate to impress mentor Serena Campbell she's been working 16-hour days then staying up all night studying. But, this week, the junior doctor's efforts have dramatic consequences. Although she's exhausted, Jasmine throws herself into treating Kieran, a pro-swimmer with Crohn's disease. But when Jasmine almost gives Kieran an overdose of pain relief, colleague Morven orders her to go home and rest.
Keen to assist Serena in a complicated aneurysm repair that afternoon, Jasmine tries to fight her fatigue with caffeine pills but then, as Keiran's brother Alex approaches her to discuss his treatment, she passes out! Alex revives Jasmine but then tries to blackmail her into cancelling Keiran's bowel surgery, so that he can compete in swimming trials – otherwise he'll tell Serena all about her fainting and her 'pill habit'. What will Jasmine do?
Meanwhile, Oliver claims he's let go of his anger towards Jac for abandoning their research project. But his new zen outlook is tested when Jac and Matteo receive funding for their improved stent. Will Oliver truly be able to move on?
Also, Essie worries that the truth about Kim's arrest will drive Parker away. When he arrives at the hospital following a fight at school, Essie must decide whether to come clean or lose him forever.
Get the latest updates, reviews and unmissable series to watch and more!
Thank you for signing up to Whattowatch. You will receive a verification email shortly.
There was a problem. Please refresh the page and try again.