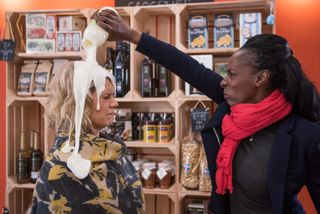 The Loveday men are in the doghouse with Simone and Lisa after the revelation about Joanne sleeping with Zack and Louis keeping it a secret. Joanne arrives at Price Slice but ends up with a jar of white pasta sauce poured over her, when Simone makes a discovery. Joanne snaps and tells Simone that Louis ran her over. Later, Joanne's in the police interview room with Wayne who tells her the truth about 'Lisa'.
Grace is reluctant to be sympathetic to Trevor, while Nico's in hospital and Sienna and Ben's relationship is strained. Trevor's struggling through a shift at The Loft and tells everyone to leave when he reaches breaking point, just as Grace turns up and tells him she wants the 'real man' back that she fell in love with.
As Ben asks Myra if she'd get tested to be a kidney donor for Nico, knowing Theresa was a match last time, Sienna's growing frustrated that Ben is closer to her daughter than she is. Myra gets tested and is relieved she isn't a match. Theresa tells Nico she wishes she could give her another kidney and Nico 'jokes' that she'd have to die first – is Theresa her next victim? Later, Sienna visits Trevor at The Loft.
Also, Tony hires James to sue Ste and Harry for financial losses. Later, Ste signs over his half of the restaurant.
Get the latest updates, reviews and unmissable series to watch and more!
Thank you for signing up to Whattowatch. You will receive a verification email shortly.
There was a problem. Please refresh the page and try again.