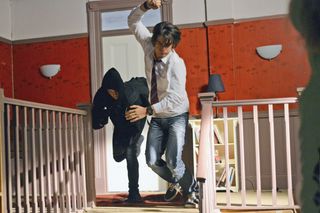 Josh goes to take his pills, but is interrupted by Oscar who tells Matt. However, Evelyn overhears and, fuming that Oscar broke his trust, Josh flushes the pills down the toilet while Evelyn stands over him. Josh goes to the house to smooth things over with Evelyn but he finds an intruder - the mysterious stranger. The pair fight and Josh is knocked unconscious.
Leah is thrilled she doesn't have to sell The Diner, thanks to Zac's 'inheritance.' Charlotte overhears the conversation and confronts Zac about his lies; little do they know the same mysterious stranger is watching them.
The new headmaster Greg Snelgrove will be coming into today and Zac is gutted to realise he won't be able to make his loan repayments. When Leah loses her job too, Zac cancels his loan, but is charged with a massive fine. At his wits end, Zac resorts to borrowing the money from Charlotte.
Get the latest updates, reviews and unmissable series to watch and more!
Thank you for signing up to Whattowatch. You will receive a verification email shortly.
There was a problem. Please refresh the page and try again.