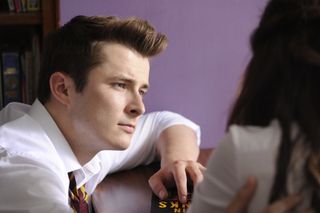 (Image credit: BBC/Headstrong Pictures (WR) Ltd/Neil Davidson)
It's the second last ever episode of Waterloo Road, and it looks like the school's closure is inevitable…
This week Justin faces expulsion, having been wrongly accused of stalking Bonnie. But with damning circumstantial evidence pointing to his guilt, Justin's given his marching orders from the school.
Meanwhile the actual cyberbully, Justin's little brother Leo, is keeping quiet. But when Justin's girlfriend Kenzie begins to suspect Leo of bullying Bonnie she tells the boys' father and school headmaster, Vaughan.
With so many problems in his family life, Waterloo Road's head turns his back on the school in its time of need in order to give his troubled family his full attention!
Elsewhere, Sonya is devastated when she spots a man leaving Guy's bedroom. Realising her lodger is gay and she's no chance of a relationship with him Sonya comes clean to Guy about her cancer lies.
Meanwhile, deputy head Lorna is gob smacked when her estranged husband Rob turns up at the school gates wanting to patch up their marriage. When Vaughan hears about Rob's publicity expertise he ropes Lorna's ex into helping raise the school's profile – forcing her to spend the day with him.
Later, Sonya outs herself as a liar at the school's press conference, bringing disgrace to both herself and the school. Furious at the bad publicity, Rob corners Sonya when they're alone, and reveals a terrifying dark side…
Get the latest updates, reviews and unmissable series to watch and more!
Thank you for signing up to Whattowatch. You will receive a verification email shortly.
There was a problem. Please refresh the page and try again.