Justin needs to tell Scarlett the truth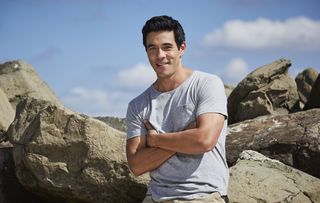 (Image credit: Jeremy Greive)
Justin needs to face the music and tell Scarlett why he rejected her advances
It looks like Justin has been stood up by his estate agent, so he uses the opportunity to have a surf with Ben. Justin tells Ben about his troubles, while Scarlett tells Kat that Justin rejected her advances. After speaking to their respective friends, the pair decides to confront one another. Will Justin tell Scarlett the truth about why he rejected her advances?
Meanwhile, Maggie and Ben are on cloud nine over the new renovations for the pier. Maggie uses the renovations to suggest a lunch with Marilyn, Leah and Irene. The foursome seem to be having great time over food but when Maggie shows them the plans, Leah is livid to see that the renovation plans for the pier will include a new restaurant. Maggie is blind-sided by Ben's plans - but will Leah believe her?
Also, Irene and Leah are overcome with joy when Ash calls them over to the apartment to show them that Luc has started crawling. He then calls Tori to tell her the good news - but Tori's with Kat, who went to the hospital to tell Tori that Brody may have been telling the truth about Zannis. After hearing Ash tell Tori about Luc's crawling, Kat is livid and gives him a piece of her mind.
Later, Ash is at the hospital as he's not feeling well and Tori diagnoses him with an ear infection. After diagnosing Ash, Tori pours her heart out about not believing Brody in his hour of need. Ash and Tori head back to his apartment and have a heart to heart. The next morning, Kat sees Tori leaving the flat in the early hours of the morning and jumps to a dangerous conclusion….
Get the latest updates, reviews and unmissable series to watch and more!
Tobi Oredein is an award-winning women's lifestyle journalist, media entrepreneur and international public speaker based in London, who focuses on race, feminism, beauty politics & popular culture. Tobi has been commissioned by Buzzfeed, British Glamour, Grazia, Elle UK, Fader, The Debrief, The Independent, The Pool, Stylist, Vice and others. She has also interviewed public figures such as Ryan Coogler, Ava Duvernay and Sir Trevor McDonald.
Thank you for signing up to Whattowatch. You will receive a verification email shortly.
There was a problem. Please refresh the page and try again.