Karen's traumatised by her old self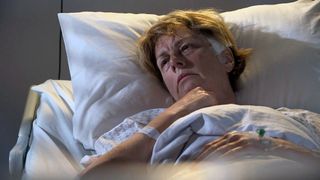 (Image credit: BBC)
Karen reawakens from her latest sedation just as Zara arrives, but Karen seems not to recognise her. Zara asks Karen a few questions: Where is she? What's her name? When Karen answers with her maiden surname, Zara then asks: 'What year do you think it is?' Karen answers: Why, it's 1984, of course!
Rob knows this sort of memory loss isn't uncommon after head trauma but Zara says there's no way of knowing if it will come back. Rob tries to remind Karen they are husband and wife but, in a panic, she asks him to leave. Zara tells Karen the year is 2013 - and she's not 18 any more. Karen's in denial but Zara makes her look at her hands - these are not the hands of a teenager.
As she looks in a mirror, Karen breaks down when she sees herself - 30 years older than she remembers looking. After having Karen re-sedated, Zara's surprised when Karen's son Jack turns up. The pair get a coffee and return to find Rob again by Karen's side. Zara repeats the uncertain prognosis to them both and encourages Jack to take Rob back home: there won't be any further news. Rob leaves, shattered.
Meanwhile, it's the evening of Jimmi's date with Jas, and both are anxious: he calls her up to double-check she eats everything he's cooking, while Jas tries to gauge the right amount of make-up to use. The pair enjoy a sweet - if slightly stilted - dinner. As they're preparing dessert, they share a tentative kiss, which grows into a bigger one...
Also, Daniel agrees to be the ringside doctor for a martial arts bout and comes to suspect one of the fighters is not in the peak health he claims.
Get the latest updates, reviews and unmissable series to watch and more!
Thank you for signing up to Whattowatch. You will receive a verification email shortly.
There was a problem. Please refresh the page and try again.