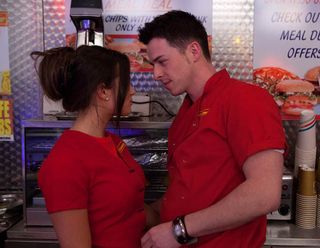 Ryan's flirtatious as Katy starts work at the kebab shop, suggesting they have a drink when they finish. Katy's exhilarated by the hustle and bustle of work. When Ryan showers her with compliments and then moves in for a kiss Katy can't help but respond.
Stella is forced to referee between the 'grieving' widows. Eva's sceptical of her gran's grief when Gloria contacts Eric's solicitor to ask about his will. Eva insists on accompanying her to the funeral parlour, disgusted that she plans to use his money to splash out on a lavish funeral.
Kylie encourages David to make the first move with Gail. When he calls at the Websters, apologising and asking Gail to return home, Kylie begins to worry again about what Gail will reveal.
Also, Fiz is pleased that Tyrone's changed his mind and wants her to visit him in prison. But when he tells her to forget about him and move on with her life she's gutted. And Mandy takes Flash's run to the tip but discovers more than she bargained for there!
Get the latest updates, reviews and unmissable series to watch and more!
Thank you for signing up to Whattowatch. You will receive a verification email shortly.
There was a problem. Please refresh the page and try again.